JAYARAMAN RAMESH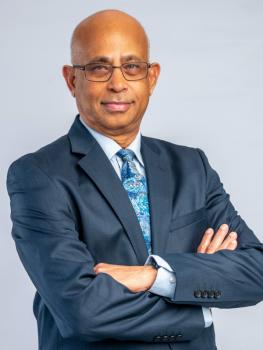 JAYARAMAN RAMESH
Nationality: Botswana
Bachelor of Commerce, University of Madras; Chartered Accountant, Botswana Institute of Chartered Accountants (BICA). Senior Leadership Programme – Organisational Leadership, Oxford University (UK).
Appointed 2022
Jayaraman is the co-founder and Non-Executive Chairperson of the Board of Directors of Botho Group which comprises Botho University, Enko Botho Campus a leading private University in Botswana with additional campuses in Lesotho, Eswatini, Namibia, Ghana and Blended and Distance learning. 
He is also a Non-Executive Director in Botswana Stock Exchange (BSE) listed entities including Sechaba Brewery Holdings Limited (SBHL) where he also serves in the Finance and Audit Committee and at  Engen Botswana Limited, a downstream petroleum company since May 2022. He is the Chairperson of the Audit Committee at Engen.
Jayaraman is the previous 1st Chairperson of the Government Audit Committee formed under the Public Finance Management Act of the Government of Botswana, reporting to the Minister of Finance & Economic Development. 
He has previously held several leadership roles at Grant Thornton       Botswana including, being the Non-Executive Chairperson, Managing Partner and Partner over a period spanning 36 years.      He was also an elected Member of the Board of Governors of Grant Thornton International, representing Africa, the Middle East and Europe and the regional head of Africa for Grant Thornton International.      
He is the founder of the Grant Thornton Private Business Growth Award and a business leader in Grant Thornton's Oxford senior leadership programme where he mentored several leaders from the Grant Thornton network. He has also mentored the finalists of the 2020 Entrepreneurial World Cup held by Global Entrepreneurial Network in October 2020.
Jayaraman founded the Grant Thornton Toastmasters Club, a member of Toastmasters International that provides a structured platform for employees to empower themselves and upskill their public and interpersonal communication and leadership attributes.
He holds active leadership roles in social organisations involved in charitable activities for the welfare of the local communities and is the recipient of the Melvin Jones Fellow Award from Lions Clubs International Foundation for dedicated humanitarian services.
He is an avid traveller and has travelled to 80 countries.